Amsterdam University of applied sciences
Minor
Immersive Environments
Are you ready to explore new technological territories?
In the new Minor program Immersive Environments you will be challenged to leave the flat screen behind and start experimenting with the design of digital physical spaces.
Projection, sound, objects, people, sensors and interactive walls are just some of the elements that you will use to create Immersive Environments.
The techniques and insights that you will acquire during this extensive course may be used in museums, retail spaces, fashion shows, festivals, events, conferences or outdoor locations.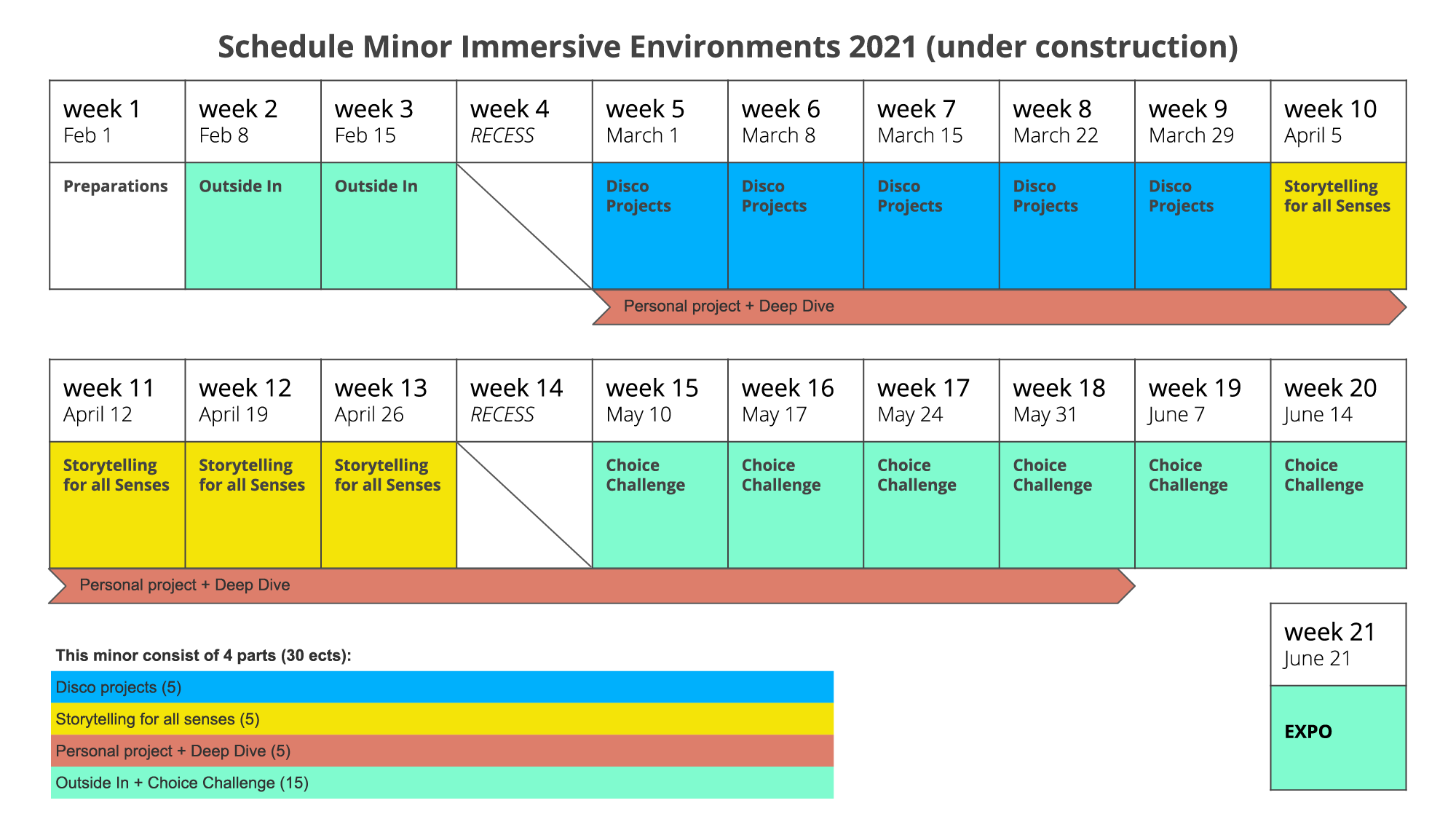 Outside In:
the first two weeks will be devoted to getting to know each other, the teachers and the creative environment of NDSM. In this part you will explore the possibilities of video projection, leading to small group projects in which you will present elements from the outside world into our Treehouse cabins.
Disco Projects:
During five weeks of disco(very) you will get acquainted with all kinds of software and technologies (such as touch design, arduino's and projections mapping) and practice various skills that will be required to create interactive mixed reality installations.
Storytelling for all Senses:
In this four-week team project you will focus on environmental storytelling and Virtual Reality and experiment with ways to trigger more senses than just sound and vision. In the last week the installations will be tested and by presenting them to the NDSM community.
Deep Dive:
During nine weeks, each Monday morning we will meet as avatars in in the virtual VirBELA world where small teams of two to three students will present a research topic that they have further explored. Check out the topics below.
Personal Project:
In your personal learning plan you define your own project to develop a particular skill or the use of specific technology.
Choice Challenge:
In the last seven weeks you will work on a final team project, implementing all the skills that you have mastered in the previous period. We will invite external parties to come up with interesting challenges for you to transform spaces into Immersive Environments –  leading to a final exciting Group Expo Party.
Workshops and Guest Lectures
During the whole course, you will be invited to attend inspiring online guest lectures and instructive physical workshops, covering a variety of immersive topics.
For this minor the Amsterdam University of Applied Sciences has rented private cabins at the Treehouse Art Community at NDSM in Amsterdam Noord. Treehouse
The Minor Immersive Environments is developed at the faculty DMCI of the Amsterdam University of Applied Sciences.